Co-parenting
Even after the divorce, you and the other parent still have the duty of parenting your children. This should remain a priority for both of you.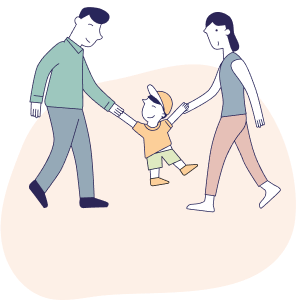 Children in Cross Border Disputes
Co-parenting can be particularly challenging for families where parents reside in different countries. Cross-border disputes are very stressful for children, especially if they are constantly moving between countries.
In such cases, parents must make important co-parenting decisions regarding child custody and access. It is crucial that parents carefully consider how to provide a stable environment for their children, while allowing their children to maintain or develop a close relationship with both parents.
Unfortunately, cross-border disputes may at times worsen, leading to cases of international child abductions. International child abduction occurs when a child is removed or retained outside the country where the child ordinarily resides in, without the permission of the parent with custody of the child.
The Hague Convention on the Civil Aspects of International Child Abduction (HCCAICA) is designed to protect children from abduction and to secure their quick return to the country of habitual residence, or the country that the Court decides is most suitable for them.
Under the HCCAICA, a Central Authority is set up in each country to deal with requests for the return of children. The Central Authority in Singapore is the Ministry of Social and Family Development (MSF). For more information on international child abduction, please refer to the webpage of the Singapore Central Authority.
How to Make Co-Parenting Work