Counselling Services for Children
Your child may benefit from counselling support to help them cope with divorce.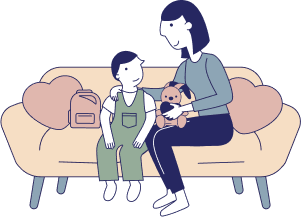 Where Can My Child Attend Counselling?
School Counselling
You may approach your children's teachers, who may refer your children for counselling if necessary. If you and your children are comfortable, sharing about what is going on at home with your children's teachers can help the teachers to be more attuned to your children's needs. The school counsellor may also engage you as a parent to better understand your children's needs. The school counsellor may assist in referring your child for other support, where necessary. Receiving support from parents and teachers in both the home and school settings will help your children cope better with the transition.
Counselling Services at Institutes of Higher Learning (IHLs)
All IHLs such as polytechnics and universities offer counselling services. You may find more information through student services at each institution.
Social Service Agencies
Strengthening Families Programme@Family Service Centres (FAM@FSCs) and Divorce Support Specialist Agencies (DSSAs) offer face-to-face counselling for children to cope with divorce. All sessions are free-of-charge.
Find your nearest agency here.
Other places that offer counselling services are:
Why Attend Counselling for Children?