Making a Decision About Your Marriage
Decisions about your marriage are major and will impact your family deeply. Before you decide on the next steps in your marriage, take some time to consider:
Am I making a decision in the heat of the moment?
What has gone wrong in the marriage?
Are we willing to work on the marriage such as by seeking professional help?
What will the implication of a divorce be on me (and my children)?
Common Reasons for Marital Breakdown
There are many factors that may lead to a poor marital relationship. Read on to find more information and tips on what you can do if you are experiencing any of these issues.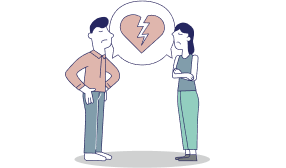 How Do You Feel About Your Marriage?
It can be overwhelming to have to make a decision on the future of your marriage. Use our resources to gain clarity on your next steps.