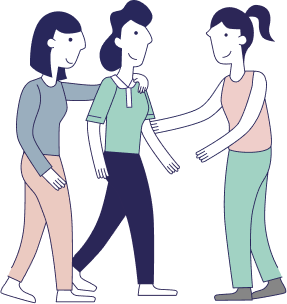 Siew Leng (aged 40) received support from her family and friends, which allowed her to cope with the grief she experienced from her divorce.
Siew Leng had always been a cheerful person and spent most of her time out meeting friends. After her divorce, she found herself spending most of her days lying in bed and her nights crying. She also started experiencing frequent chest pains. She knew that she was not coping well with the divorce and needed to take better care of herself, especially so that she could take good care of Andrew, her two-year-old son.
For half a year, Siew Leng did not tell her parents about the divorce as she felt like she was a disappointment. However, she eventually revealed the truth to them when she realised she needed their help during this difficult time. Siew Leng's mum helped to take care of Andrew so that Siew Leng could go back to work. Siew Leng was also able to hit the gym again, something which she enjoyed very much. Getting back into the routine of work and her leisure activities allowed Siew Leng to take her mind off what was happening.
Siew Leng also had a group of caring close friends who were instrumental in supporting her. They were always available to listen when she needed someone to share her thoughts and feelings with. Whenever they knew that she was feeling overwhelmed, they would ask her out to lift her spirits. One time, they even planned a surprise trip for her to attend a concert held by her favourite band in Malaysia! She was extremely touched by the care and concern they showed her. Having her friends rally around her also reminded her to care for her own needs even in the time when she was focused on supporting her son.
Although Siew Leng's mum was ready to help her, her dad did not react positively to the news of her divorce. Along with other relatives, he accused her of being a bad wife and was persistent in questioning what she did in the marriage that resulted in the divorce. Siew Leng was deeply hurt by the comments, especially as they came from her own father. However, with the support she received from her mum and her close friends, she focused on her recovery and supporting her son. Over time, Siew Leng continued to progress in her career and continued to enjoy the close bond she had with her son.
(Read about how Siew Leng helped her son cope here)