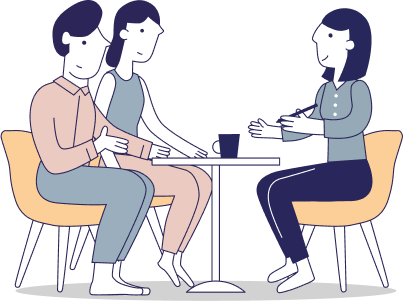 Alice (aged 45) changed her mind about divorce after she attended a marital reconciliation service at one of the FAM@FSCs with her husband. Alice and her spouse continue to work on their marriage through counselling.
I first learnt about divorce-related support programmes through the Internet. As I was considering divorce, I decided to give one of the centres a call.
I attended the group Mandatory Co-Parenting Programme (CPP). Through the CPP, I better understood the impact that divorce would have on my children, should I decide to file for a divorce. Thereafter, I requested for 1-on-1 counselling sessions as I was unsure about whether I should file for divorce.
The 1-on-1 counselling sessions were helpful for me. I was emotionally supported by the counsellor. She processed my thoughts with me so that I could gain clarity in my decision making. Eventually, I made an informed decision to work on my marriage.
Both my spouse and I agreed to work on marriage recovery through the marital reconciliation service. I requested for the same counsellor to work with us on our marriage reconciliation. It took time to build trust with a counsellor. Having the same counsellor throughout the process was also helpful as I was more comfortable to speak with them.
My counsellor acted as a listener and a neutral party. That helped us to address our problems in more positive ways, clarify issues, and provide options.
Through counselling, my spouse and I came to understand each other better. We clarified our doubts during the joint sessions in a positive manner while working on our marriage recovery.