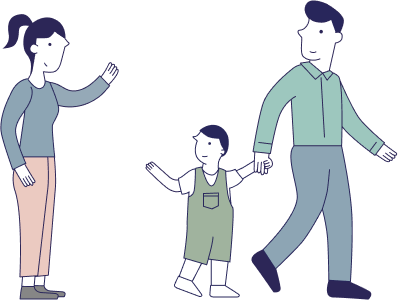 After finding out that her son, at his young age, felt the effects of her divorce, Siew Leng made a conscious effort to allow him to spend time with his father. This helped her son cope with the divorce better.
After the divorce, Siew Leng moved back to Singapore with her 2-year-old son, Andrew. Since Andrew was so young, Siew Leng did not think that he would be affected by the divorce. However, she soon found out that she was wrong. Although Andrew could not express how he felt in words at that age, his difficulties in adjusting showed up in other ways. Andrew started showing social difficulties and refused to go to the playground even though he used to enjoy it. After paying more attention to what was happening with Andrew, Siew Leng realised that the cause of his behaviours was his longing to spend time with his dad again. Dad did not move to Singapore with Siew Leng and Andrew when the divorce happened, and Andrew had not seen Dad for a long time. Although Siew Leng did not want to contact her ex-husband again, she knew that spending time with Dad was important for Andrew. She planned for Dad to fly regularly to Singapore to see Andrew. Over time, as Andrew got to see his dad more and more, he no longer showed his previous difficulties in socialising.
Siew Leng also learned to pay closer attention to how Andrew was coping. Even as Andrew grew older, Siew Leng noticed that he always had difficulties expressing himself. It was important to her that Andrew learned how to share his feelings. She patiently asked him questions to find out more and always set aside time to listen to him. Over the years, they established a strong and close bond. They remained close as Andrew grew up, and he was able to share his most vulnerable feelings with her when he was older. When Andrew did so, Siew Leng was then able to help Andrew understand his feelings better and together, decide on what they could do to manage the feelings.